Why it is important to buy both domain and hosting with offer
Domain names and hosting are like a heart and soul of any website. A website needs a domain name as well as hosting to make its presence over the internet. We have been providing domain and hosting services from past many years. We provide offers on domain registration and web hosting packages at regular intervals for our customers. We have many great offers on domain and hosting. Sign up now to book domain name.
Domain Name:
A Domain is the first step in making your business online. The Domain name will be the combination of characters separated by the dot(.) and it must be unique in the Internet namespace. Each and every domain name is been associated with an IP address. If the IP is being assigned to any of the domain, then it is known as a hostname. The domain name typed in the address bar of the browser will be converted to an IP by Domain Name System (DNS). DNS server consists the data of all the computers on the Internet and maintains a registry containing names with related IP addresses.

Web Hosting:
Web hosting is a business practice of offering space and bandwidth on a high-powered computer server which is connected to the Internet at top speeds. Web Hosting service provider maintains a huge network of high-powered web server computers in a physical location called data centers. These type of computer servers are connected to a fast, and usually redundant, Internet connection. The data centers will have backup power, and a fast connection to the Internet, and also a security monitoring team members.
Can I buy a Domain Name and web hosting from one provider?

It is always recommended to buy a domain name and a web hosting services from one provider. As many users buy both domain registration and web hosting services from HostingRaja as we offer a free domain with the purchase of web hosting packages. As we are the leading domain name registration provider in India, we offer free domain name with each web hosting plans. There are several advantages while purchasing the domain and hosting together from HostingRaja. We always recommend our clients to buy both the domain name and web hosting from the same service provider to give you a seamless service without any difficulty.

HostingRaja offers a free domain name with hosting plans:
Hosting Raja is the well-known domain registration service provider in India. In HostingRaja users will be able to buy both the domain name and web hosting services. Our team members will be helping you in choosing the required domain name along with a suitable web hosting packages. As a popular domain registration and web hosting service provider in India, we give a free domain name with our high-end web hosting plans. We offer numerous benefits while purchasing both the domain name and hosting services packages. And moreover, we are the low-cost service providers in India helping small and medium-sized business to get into the online business.
The domain price depends on the domain name chosen by the user. Our team members will also give the better price information related to the domain extension. In Hosting Raja, we provide domain name at Rs. 99/month and .in and .com is a popular extension especially for Indian clients. Our team will manually verify all the domain name's owner through the phone number and Email ID. It is always suggested to provide an appropriate phone number and Email ID.
Some of the offers we have in our domain and hosting packages are as follows:
Search Now for cheap and best domain provider.
Free Domain Name with Premium, Unlimited, Cloud, VPS and Dedicated Hosting packages.
44% -55% OFF  VPS Hosting packages with a free domain name
44% -55% OFF  Cloud Hosting packages with a free domain name
44%-55% OFF Dedicated Server packages with a free domain name
44%-55%OFF  Premium Hosting packages with a free domain name
44% -55% OFF Unlimited Hosting packages with a free domain name
Check out today free domain with hosting.

Conclusion:

These were some of the major plans and offers on our web hosting packages. Apart from these offers there are many other offers that we provide to our customers at regular intervals on different web hosting packages. You can visit our website and contact our representatives to grab these offers today!! Quick guide on registering domain name.
How to get domain or website name for my business in India
 What is a domain name?
A domain name is your online address, as a website owner, you will need a domain name.  You register a domain name with a "domain registrar". It is important which you own and manage your domain name. Setting up a domain name is very easy and it will take very less time to register if you go with us.
 Domain names are important because the internet's addressing system is not effective without them and they make your website unique from the other websites. They help you to manipulate your online visibility and market your enterprise more efficaciously in online. A domain name also facilitates people to recollect you and your website or weblog.
 How to choose a good domain?
It's better to go with .com, .net, .org, .info, .xyz and .pro. if your target area is all over the world.
.com, .net and .xyz is suitable for any types of websites.
.org is best suitable for non-profit type organization.
.info is best for information websites.
If your target region is India, then register with a country domain name, like .in for India, .co.in for company in India, .org.in for organization in India etc.
You can also use numbers in your domain but it has to be placed well.
If you use a 

short and meaningful domain name

, then it would be very easy for people to remember. At times people will forget long web address easily.
Make your domain name related to your business or brand.
Simple Rules for a Memorable Domain Name:
 Research – Do a simple online search and see that is any domain related to your domain name or any domain with misspelled form. Even if you use misspelled words in your domain name it won't stop your customers coming to your business.
 Brand and Domain – Your brand and area Domain has to be identical. People understand you thru your brand name and if that isn't always what they discover during their search then it will confuse them and you can lose out on potential customers.
 Homophones – In case your brand is simply too hard to spell, then don't forget something that is straightforward to consider and unique out of your competitors. Try and have words with simplest one feasible spelling which will now not confuse the consumer. Homophonic words are a awful option for a domain name.
 The essentials: Be short, catchy and memorable! You should also make your name easy to pronounce and spell.
 The unspoken rules: While buying the domain name you need to avoid something that is too similar to competing for domain names and ensure now not to violate someone else's trademark.
 Brandable: Having a strong brand is important. Even if you're only selling one product right now, you might add other products in the future. Choose a domain name that you can grow into, even as your website or business changes.
 How to register a domain name?
  1. To register a domain name, open the website Hostingraja.in
2. Click the menu "Domain", now you will be redirecting to another page.
3. Enter your preferred domain name in search box, select the domain extension like .com, .net, .org etc., and then click the button "Go"

4. Click "GO" button if your preferred domain is available or else go back and search for another name.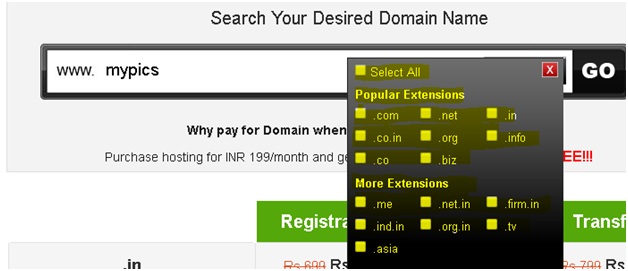 You can also choose from wide range other domains like: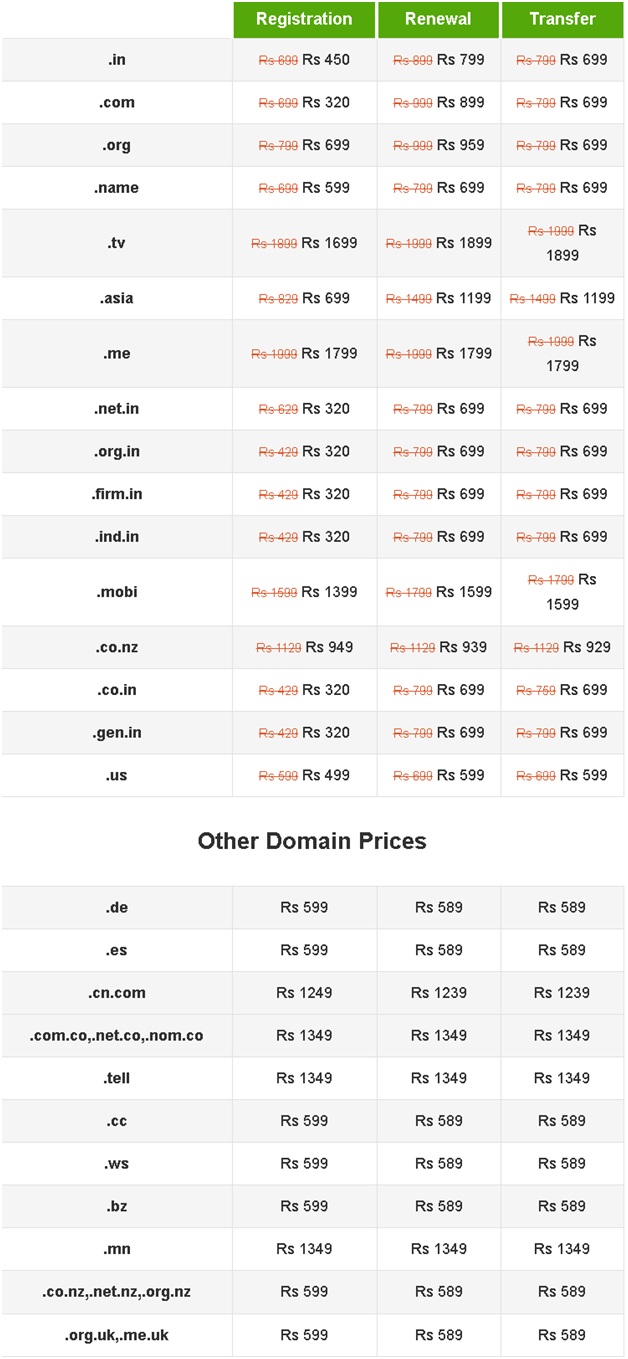 5. Choose your preferred domain that you want and then click on continue.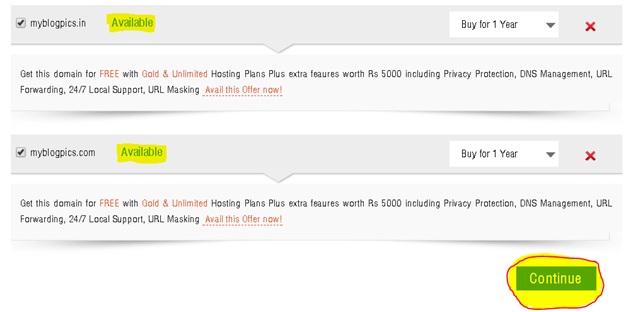 6. Choose Your Hosting Plan and click on continue. If you are not interested in any hosting plans you can click on continue. By clicking continue this will take to payment step.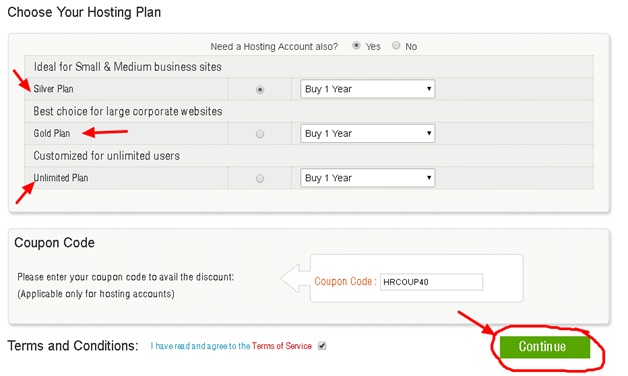 7. The final step is payment. Here you get the complete details of your domain and you can also make payment via different mode.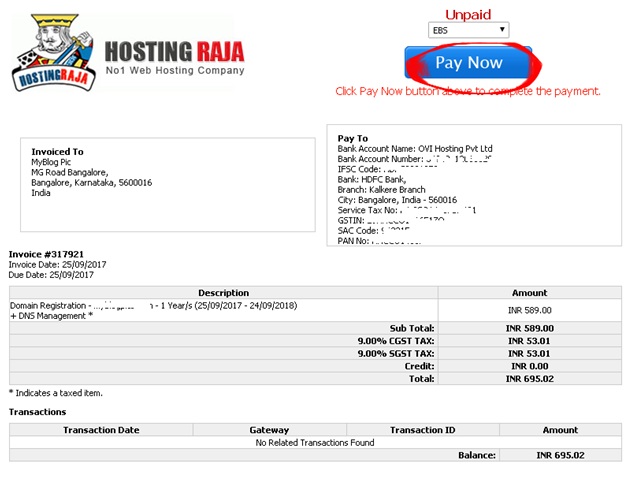 These are steps that are followed in registering a domain.
Later Upload your files to the root folder of your hosting disk space. Files with names like index.html / index.php / default.html / default.php loads as the home page when you type your domain name. And your website is read to use.
Don't forget to renew
Customers need to understand that they may lose ownership of the domain if they don't renew it 24 hours prior to the date of expiry. Depending on the plan you choose, you'll have to renew your domain plan in a year, 2 years or longer. If you didn't pay for your domain name then it will go offline. And moreover, if you did not pay before the due date then, such domains can be back-ordered, or purchased through auctions, where there is a change of losing your domain name forever.
Do I get my host account also renewed along with my website name at the time of renewal ?
No, Domain registration doesn't include renewal hosting. As it domain registration is register for a particular period may be one year than you should renew it with the domain registration company with whom you have register your domain.Same way for hosting also you should renew your domain when from whom you have buyed hosting. But if you buy both from the same company you can renew it on your renewing date.
Domain name is your a process of registering a domain name which identifies one or more IP addresses with a name that is easier to remember and use in URLs to identify particular Web pages. Choosing an easy and unique name is truly imperative and This is the first thing which will create an image in the customer's mind, and also the primary thing your customers will see, and the URL that they will save money of their bookmark or enter multiple times. It is very easy to commit an error while looking for a domain name and it co, at last, affect your business.
Enrolling your domain name the correct way can have a major effect to the general execution of the site. You can consider these do's and don'ts which are given below while choosing domain name: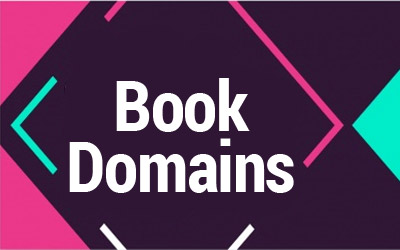 Do's
Do Register your business as the as the owner of the domain name – Do not make mistake and check and check and make sure the owner of the domain name during the third-party registration. It is basically to assure that you are the owner of the domain name and the essential managerial contact. Consider your site as a bit of property which if you don't own it you can't sell it. This mistake happens with most of the people. You should always recheck your domain name registration that is it register in your name or not.
You can also add your location and keyword in the domain – If your business is based largely on geographic region you can also add your locations in your domain name. If it is feasible you can also add important keywords to the domain name. This will be good for your website organically ranking.
The domain name should be helpful to judge you business-Your domain name should be able you explain what website or business you are running. It is important because the customers should also get and idea about your website with the name. You should choose the domain name which is easy and unique. So, that all the people can easily remember and it is easy to search it on google.
Domain name elaboration – Choose .com which is more popular and good for Top Level Domain (TLD) expansion. It is used by many people across the world. You can also use .in, .org, .net, .tv and many more. But you are running an indian website or want more indian customers on your website than go for .in domain name.
Don't
Try not to use numbers, dashes, shortened forms – Replace condensing and think of an infectious name that does equity to your business, and all the more critically, is less demanding to recall. Don't use difficult name or common names which is difficult to remember by the customers who is looking for you.
You can register your domain with HostingRaja which offers all the features such as  WhoisGuard Protection, Featured DNS Services, Security Features, Url & Email Forwarding, Full Domain Control, and many more with 24/7 customer service and good domain name extensions. So, visit and register your domain.