Why Free Blogging Platform is not an Option
With a person who is completely new in the process of picking up a blogging platform, the whole process can be completely confusing sometimes with so many choices available. Or some of us might not even understand what is meant by a blogging platform.
The first thing that might come in anyone's mind is the free option to set up a blog. While reading this you will surely get disappointed a bit. Some of us might even think that a free blogging platform is the best place where you might get a better feel of a free blogging platform.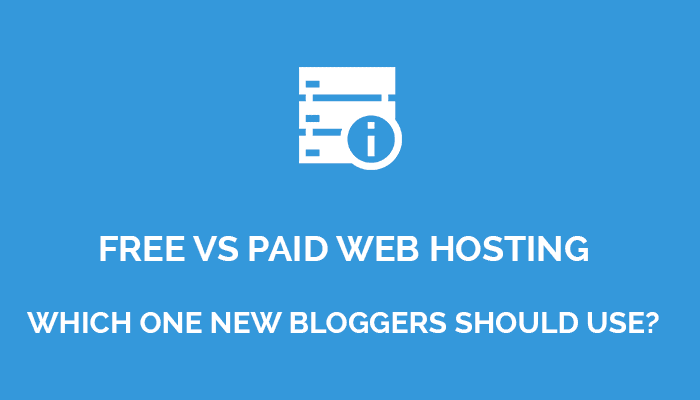 What is meant by free blogging platform?
As the name suggests, a free blogging platform is the one that will allow the user to sign up, get a domain name and you will be able to set up a website absolutely free. Two of the most common and free blogging platforms are Blogger and WordPress. Here the websites files are hosted on the servers of the blogging platform you select.
In a free blogging platform if you require more storage space in the coming future the platform might charge you more.  One good thing about a free blogging platform is that the website is well-optimized for the masses, hence it will not be a very difficult task in figuring out how does the platform work.
If you are not planning to take your blog professionally and only want to see how does the free blogging platform works then you can go with a free blogging platform.  However, if you are serious about launching the blog and want to be called as a professional blogger then choosing the free blogging platform would be a terrible idea. 
Disadvantages of choosing a free blogging platform:
Opposite of Expectations
If you are looking to take your blog seriously, you will have to choose a name that would reflect your blog or the idea you want to present to the public. If you are going to choose a free blogging platform your websites domain name would look like name.wordpress.com. These type of domain names are not taken seriously in the web world and you won't be able to build the reputation of your blog as you would like to.
Limited Capabilities
A blogging platform can sometimes prove inconvenient as you will be having a limited control over your blog. If you choose wordpress software on a paid hosting platform you will easily be able to download the new plugins and update the websites appearances.  This will allow your website to grow with you.  A free blogging platform will allow a website only with few themes and functions.  A disappropriate functioning of the website will only lead the website visitor to leave the website in no time.
Low Revenue Capability
A free blogging platform can lead to a negative user experience as well as the revenue generation capabilities. In a free blogging platform, you will be having less amount of bandwidth, space which can result to a bad user experience. Hence if you are planning to make a big name for yourself as a blogger and generate revenue by displaying ads on your website a free blogging platform option will result in a hard time for you.
Loosing the data
If you have chosen a free blogging platform, there are chances that your whole website might not be present on the internet. If the blogging platform feels that you are in some way or other you may have violated the policy agreement they have the power to delete the website without any prior warning.
Since a free service provider are not receiving any money from you they don't have to give you any prior notice before discontinuing their service. Hence if you have done something unknowingly or unintentionally which violates their terms of policies the whole blog can be removed in an instance.
There is an option of migrating the website to a whole new platform, but this can be sometimes very difficult if the account is suspended or terminated. By choosing a paid hosting service, you will at least get a notice of violating the terms of policies.
These were some of the major drawbacks when you choose a free blogging platform for your website. We provide exceptionally low rates for hosting a blog website. Get fully featured services at exceptionally low rates for hosting your blog website.